Dear Inner Earth Family,

The following message from Adama was received by Evelyn Kummerle from Germany, who also channels Adama and Mikos.
You can visit Evelyn's website at:
www.neueslemuria.de

Because of its importance, I am sending it out on my Blog.
Blessings, Dianne Robbins
THE END OF FLY AND SPRAY
Open letter to all chemtrail pilots
Adama of Telos through Evelyn Kümmerle
15th June 2009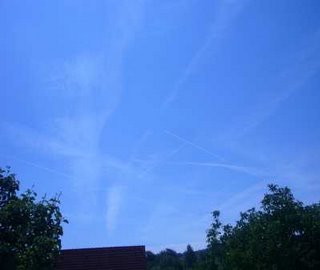 massive spraying attack on 14th June 2009, Southern Germany, Kichardt near Heilbronn
Adama, did I get this right? A message to all chemtrail pilots?
Bingo!
I'll be here for transcribing this afternoon.

Can hardly wait to see you, dear.
…..(later)
Adama, can we go ahead?

Welcome, beloved. So, this is an open letter to all chemtrail pilots. Although it's unlikely that any chemtrail pilot will ever come here to read this, this letter will be transmitted energetically to all chemtrail pilots who are souled beings. Yes, there may be some who do not carry a soul, being of artificial intelligence, (robotoids, E.) but midwayers will select the ones with a father fragment. This message is either turned to those beings giving order to fly and spray, to the ones filling the chemistry into the chem-depots and to the ones who turned to believe th there is nothing wrong in spraying chemistry into the atmosphere. So, to all needing to hear about.
Folks, you are living on a beautiful planet, on a blue jewel in space. This planet was created by God, who loves his creation. You have been created by him, too. You came here to be intelligent beings and unfortunately you got stuck inside a matrix of illusion. You are standing there upon mother earth and looking up to the sky – what do you feel?
Are you still able to feel?
There goes a phrase saying that above the clouds freedom would be limitless. Now, you guys might have had the whish to fly. You were intelligent and couraged enough to become trained to be pilots of aircraft. There is not so many occasion in this branch to choose – you can either join the military carreer or civil air traffic – or become a private pilot for a top manager, e.g. But anyway you have settled to gain a licence to fly. And now, what are you doing with it?
The atmosphere of earth is necessary for life on the planet. For decades your surface dwellers have been polluting it by industrial waste gas and else. Our silver fleet vessels have been very busy in clearing the atmosphere again and again, to give you one chance after the other to go on, hoping that you would change your mind, as civilization. And now here come some wolves dressed in sheep-suits and they hire you guys, telling you: JUST FLY AND SPRAY. And you claim, you would need that job, it was just a job like any other, you would need your income or even that you simply would not know or not care about what you are doing there! You sit inside your aircraft, you start up and press the button to start spraying your chemtrails.
THIS MAKES YOU TO BE THE PARASITES OF THE SKY AND YOU ARE PAID FOR POISONING THE ATMOSPHERE, MOTHER EARTH AND HUMANITY.
Filling any chemistry depot, delivering chemical supplies for that intention or setting your feet and your backside into the cockpit of a spraying aircraft makes you become assistants in a big project of mass-murder.
HOW LOW CAN A HUMAN BEING FALL TO PARTICIPATE IN DESTROYING THE OWN LIVING SPACE.
WHO DID MAKE THAT TASTY FOR YOU?
It does not matter whether you use anonymous aircraft or not.
The dirty work you perform is outing you by any means.
You hurt creation and as you hurt creation you hurt yourself as your body was originally intended to be temple of God.
You misuse the freedom that should dwell over the clouds. You misuse the free will that was given to you by the creator. To tell that you just did not know what you were doing is nothing but a poor try to escape the responsibility. If you are intelligent enough to fly such a plane or to steer a remote controlled spraying craft you should be most likely intelligent enough to question WHAT you are really doing there. It's never too late to stop, so I URGENTLY ADVISE YOU TO EARN YOUR MONEY BY A JOB WHICH DOES NOT HARM A COMPLETE PLANET AND CIVILIZATION. AND IF YOU KEEP SPRAYING YOU WILL HAVE TO SUFFER THE CONSEQUENCES.

The blue sky, clean and radiating the love of the creator, is meant to be unharmed and hands off, untouchable.
COSMIC LAW WILL ELIMINATE THE PARASITES FROM THE SKY, SO BETTER STOP BEFORE YOU ARE STOPPED BY HIGHER ORDER. ALWAYS YOUR CHOICE, BUT DON'T TELL THEN YOU HAD NOT BEEN WARNED, IF YOU THEN WILL STILL BE IN THE POSITION TO TELL.
You will fail to pass your exam, folks. STOP IT AND STOP IT NOW! TIME OUT.
YOUR SPRAYING CRAFTS WILL TURN OUT TO BREAK IN BITS AND PIECES.
And I assure you, this is not "revenge" of God in any kind. It's nothing else than what you have created for yourselves by breaking the cosmic law. This is your last chance, folks. It's me, Adama of Telos, speaking also on behalf of mother earth, who deserves heartfelt thanks for nurturing her children, instead of being hit straight in her face. If you stop out of your free will you will be blessed. If not, just wait and see. Thanks to the midwayers transmitting and delivering this message to the persons in question. And should you, dear readers, know anybody who is a FLY AND SPRAY PILOT, then please copy this message and pass it on to the person in question. With deep thanks for your support and best whishes for insight to the Chemtrail pilots...(Get well, soon!) this is your eternal friend Adama of Telos.
PS: Yesterday we had a massive spraying attack, lasting the whole sunday. The picture at the top of the document shows just the beginning. My cloudbuster had a lot of work to do. But in the evening the sky was clear again.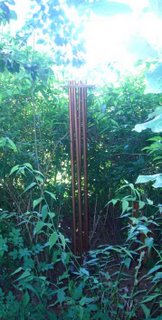 Cloudbuster in my garden